Review at your own risk! (Under construction).
The Project: The Hot Mommas Project is the world's largest women's digital case study library designed to serve as role models and mentors from the basement to the boardroom. The library is free, comprised of rich – often jaw-dropping – stories, by women of all backgrounds and cultures. The Hot Mommas Project collaborates with educators, institutions, women's and girl's groups, parents, and companies to use the venture's teaching tools and training seminars which increase confidence up to 200%. Hot Mommas® Project started as the research of our founder as a part time faculty member at the George Washington School of Business, Center for Entrepreneurial Excellence. More and more, students kept asking not only about her work experience, but also her home and family experience. Long-story-short: the Hot Mommas Project was born to fill a gap in the educational system – Teachable, scalable, authentic role models providing a full picture of success. Research shows exposure to key networks of role models/mentors and family issues are the number one and number two issues impacting womens' career success.
The Team:

Kathy Korman Frey
Founder
Kathy is the Hot Mommas Project Founder and "CHM" (ChiefHotMomma), a title developed for her by an intern on the way to Guy Kawasaki's party in Silicon Valley. Frey previously served as Managing Director of Vision Forward, COO for the National Council on the Aging Development Corporation, as Vice President of Business Development for a healthcare software firm, and in management and as an analyst in the merger and acquisition and competitive intelligence industries.
Frey is a former Alzheimers Association board member and currently serves on the advisory boards of United Women in Business, Mixology, and 30 Second Mom. She is the recipient of a Washington Business Journal Women Who Mean Business Award the DC NAWBO Woman of Distinction Award.
Frey teaches Women's Entrepreneurial Leadership at the George Washington University School of Business; the course is the winner of a National Excellence in Entrepreneurship Education Award. Frey earned her BA in English from The University of Virginia and her MBA from Harvard Business School. Click here for more.
Follow Kathy on: Twitter

Tinu Abayomi-Paul
Editor In Chief
Tinu Abayomi-Paul is the Hot Mommas Project Editor in Chief and founding Women's Leadership Fellow, a two-year long program designed to provide exponential benefit to the women's community. Tinu brings to the Project her expertise in web site promotion, as an author, and content specialist as the principal of Leveraged Promotion, LLC.
Tinu has written over 30 ebooks and multimedia guides on using the web to increase business profits, as well as volumes of how-to guides. She is frequently quoted in books and articles, and has been part of a CNN's Leading Women article and chat series.
Tinu was named one of the 2014's top 50 Industry Influencers by AGBeat. She was on of TopRank's 25 Women Who Rock Social Media. Other honors include "Digital Sister of the Year" and Liberated Muse's Top 10 Women in Social Media."
Previously, Tinu was the Editor of the award-winning blog: Women Grow Business founded by Network Solutions. She currently serves on the Social Media Advisory Board of Web.com.
Follow Tinu on Twitter
Where we get to brag about Tinu: Tinu is, as we say, "a walking library." Her knowledge is only matched by her super-cool NPR voice and demeanor. She is also really funny. Like, REALLY funny.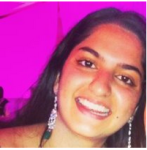 Priyanka Pardasani
Executive Director of Summer Operations
Priyanka is a rising Senior at the George Washington University and got involved with the HotMommasProject after taking 'Women's Entrepreneurial Leadership' taught by Chief Hot Momma Kathy Korman Frey.
She frequently nerds out over socially responsible businesses, obsessively tracks India in the news, and can often be found hanging out with her 9 year old King Charles Spaniel, Mr. Arthur. She also really loves social media, especially Instagram, where she tries to be super "artsy" and frequents many accounts with inspirational quotes, her favorite being @BuddhaDoodles.
Priyanka took a gap year between her Sophomore and Junior years of college, and during that time she finally got to be a waitress, work at Warby Parker as a Supply Chain Associate, and give a TedTalk on her mom's experience with cancer and the strength it taught her. This summer, she hopes to help the HotMommasProject expand and touch and inspire many lives around the globe.
Michelle "Micha" Sindyukov
Social Media Manager
Michelle manages the social media and the website. She comes all the way from Israel and has previously also lived in DC. Currently as a junior at American University, Michelle had multiple internships in the field of communications and marketing. She is very passionate about languages, women's rights, sports and politics. In the future, Michelle would like to work in the marketing field, travel the world discovering what's around her.
Consultants at Large:
Ify Ofulue
Case Library Curator
Ifeoma "Ify" Ofulue, PhD, is an award-winning rhetorical scholar whose research explores the interplay of gender, religion and cultural identity in American public discourse. She is Founder and Executive Director of DC International Women Professionals, a social and professional network of women who live and work in international contexts. A native Washingtonian, Dr. Ofulue currently resides in the DC area where she is completing her book on science, gender and ethnicity in contemporary American evangelical rhetoric of biblical manhood and womanhood. Her research and teaching have been recognized by Eastern Communication Association, National Communication Association and the International Communication Association. Ify works with the Hot Mommas Project as a curator and partner. She represents the project at events such as TEDx Women.

Achin Jain
Learning Community Consultant
You may recognize GW's former Learning Community Manager, a GW MBA now a successful executive with a petrochemical company in India. Achin still helps the Hot Mommas Project from abroad, and is a huge supporter, wealth of knowledge, and "guy we love."
Hot Mommas Project Alums:

Matt Scott
Social Media Manager
Matt Scott is the "Social Media Guy" at the Hot Mommas Project. Hailing from West Orange, New Jersey, he is a senior at the George Washington University School of Business. Studying business administration with a minor in creative writing, Matt has a strong passion for social entrepreneurship and plans to do research on storytelling's role in social impact. Outside of classes and work, Matt is active in student leadership surrounding issues such as residence life and sexual assault.
Where we get to brag about Matt: Matt used to work at the White House and has more work experience than most 30 year-olds, and he hasn't graduated from GW yet.
Follow Matt (running @HotMommasProj) on Twitter

Hannah Friedman
Global Relations Manager
Hannah Friedman manages "all things global" at the Hot Mommas Project and previously served as Global Telecast Manager for the Hot Mommas Project 2012-2013 Global Awards Ceremony Webcast. Born in Germany and raised outside of Boston, she is currently a sophomore at American University. Hannah studies International Relations with a minor in Economics while also pursuing translation certificates in Spanish and French. Hannah hopes to move back to Germany to pursue a career in the American Foreign Service after graduation.
Where we get to brag about Hannah: Hannah is on full scholarship at AU and is a complete rockstar. She laughs at us wimps because she ran cross country, is German and from the Northeast.
Judges
The entire team would like to give a special thanks to our esteemed judges, many of whom are advisors and mentors to the project.
Country Managers
Thank you to our global leaders from around the world who are well-known in their industries and countries. Current and past country managers:
Men's Aux
We walk the talk at the Hot Mommas Project and work in educator-student teams. Are you a driven student in the DC area, or work well virtually from around the globe? See our listings.
The Hot Mommas Project has many supporters and volunteers who regularly help us and cheer us on.
We cannot thank you enough.