By Kathy Korman Frey as part of the Building a Million Dollar Business Part Time series. (updated 2.27.14)
Traditional planning and goal setting tends to start with revenue and profit.
But on a day that I got 15 lidocaine injections in my head, let's just say – no revenue and profit came to mind. A lot of things changed…are changing. Business jargon + real life = pretty interesting. Here's how I dealt with it.
"Hurt me…Make me accountable! Mommy!"
The traditional planning process looks like this:
I used to be in the business. I get it. We want someone to boss us around. We're sick of being the boss.
But, 2014 planning – something different took the lead for me: Inspiration.
I needed support and encouragement. And research shows this latter approach works more effectively (with people) than a critique-based approach and 

.
15 Needles in the Head…It changes one's perspective.
Here's the short version: I had 15 needles of lidocaine injected in my head on December 31, 2013.
When I sat down to do the 2014 goals and planning for the Hot Mommas Project, somehow, I knew it was going to be different.
Amazing how 15 needles in your head can change one's perspective. Or – not that amazing. Kind of logical when you think about it….Anywhoo…I'll spare you the needles, and share the perspective.
2014 "15 Needles" Goal Setting – What is your impactful experience?
I shaped my four goal areas for 2014 goals around the experience on the 15 needles day, pretty much violating every covenant of planning.
Here goes: So…planning always starts with revenue and profit, si? I am leading with people today. Here's why.
Setting = feeling of knife in head, though I have never actually experienced. Yes. Ew.
It's December 31 and my migraine is escalating. I am prepared to go to the neurologist and get my treatment and meet the family downtown. However, after the family saw me squinting at light…
Note: I am not a vampire.
…They considered this a bad sign, all piled in to the car, and drove me to the neurologist. I had wangled an appointment at 4pm.  I was at such a low and in a lot of pain. They stood by me.
I. Goal area 1 – TEAM DREAMS
This leads me to my first goal set for the year. When I ran a bootcamp planning company sales and profit is numero uno. 

I'm inspired more by the people who stood by me this year. They're first.
#1 Goal – Share and Accomplish in 2014: What I can do to help my team achieve their dreams, and vice versa, in 2014.
 Example: 
To curate our entire library (worlds largest women's case library)
Hire an editor and/or executive director
Plan for the scale our award-winning content and classes
From my team, I'd like to know: What are dreams they have? We'll put them on a team dreams board with sticky notes.
Update #1: I am on a listening tour. One nobody knows about, and possibly doesn't care about. But whatever.
I am getting a hankering of different dreams eavesdropping on my team. Going to "drop the bomb" end of March.
II. Goal area 2 – RIGHT HANDS, SUPPORTERS, AND PARTNERSHIPS
Continuing the story, the whole fam-damily entered the neurologist's office. I texted K – the front desk goddess . T – the physician's assistant – did not have time for an IV.  Deep breath…I knew what this meant. Shots. Many shots. In the cabeza.
Two in my forehead in between my eyes, two in each temple, the rest in the back of my head…at one point I thought I might cry….But, then I took a deep breath and realized: What I really should cry about is that I need a margarita and can't have one because I have migraines. 
Now, back to my little fairy tale….this is as close as it gets folks…okay?
It felt good to go back in the car, exhale. Wow.
It felt good to take my husband's hand.
It felt good to know we were at the place now where we were on the same "headache team." It was hard.  But we had all learned.
This was my #CNHDIWY – "Could Not Have Done It Without You" team. 
This is really a terrible hashtag. Oh well. You get the idea. Here are the goals…with pretty much the BEST UPDATE EVER!
#2 Goal – In 2014, secure: Three energy-giving #CHDIWY (Couldn't have done it without you) partnerships.
Example:
An editor I want to hire
A source of the funding for this editor
A major distribution outlet for our content / classes
 Update 1.15.14 – We have an editor!
The editor and I came up with part one of a plan for #2 and #3 on this list. 
III. Goal area 3 – PERSONAL GOALS
Picking up where we left off…The family drove down to the Madison Hotel in DC. I was now a participating member.  Because we'd had this personal family goal, we were all very directed in getting me well, all coming together, and getting down there. 

I don't do this in my personal life (being that directed). I would like to start. 
#3 Goal –  Personal for 2014: Be a dot my own radar screen 
Example:
Get together with friends 3x a month outside of work hours.
Get into a cool hobby that takes me away from romper room 2x per month (TBD).
Get the book done – mini write up in January, manuscript in 2014 and continue fiction writing for fun.
Update: I have gotten back into BodyPump classes with the awesome trainer-slash-social media guru Connie Deshpande. We met when my son and I rescued her dog who had escaped and was running down a busy street. Naturally. We, as always, were at Starbucks. There is more to the Connie story…but, you'll have to STAY TUNED nerds!
IV. Goal area 4 – FINANCIAL/VALUE
Driving down to the Madison Hotel, I felt very blessed to be doing a stay-cation. I don't discuss it a lot, but, we tend to be pretty financially conservative. Growing up, money was discussed for one reason, and one reason only: EDUCATION. My goal for my kids is to feel in charge of money, not the other way around. Education helps. Believing money has its place helps. 
Goal #4. For 2014 the Hot Mommas Project will triple bottom line it with our goal-settting.
Example:
Revenue
Profit
Impact
These will be set when the team is back later in January.
Update 2.27.14 – Gotta make impact a METRIC!
This really reminds me: What is our "impact metric" going to be? Since this post we've decided to launch a virtual campus this Spring. We know it will be great learning and a cool experience for everyone. But, what more? This is good to ponder.
Parting Thoughts
Net, net: I wound up with some of the standard goal areas, but in a different way.
Life is different for me now. Everything is different for me now.
Each of these goals will be an action plan for me and the team for 2014 with dates and steps.
But underneath the action plans and to-dos, we'll all know, there is something meaningful.
Have you done your 2014 goals?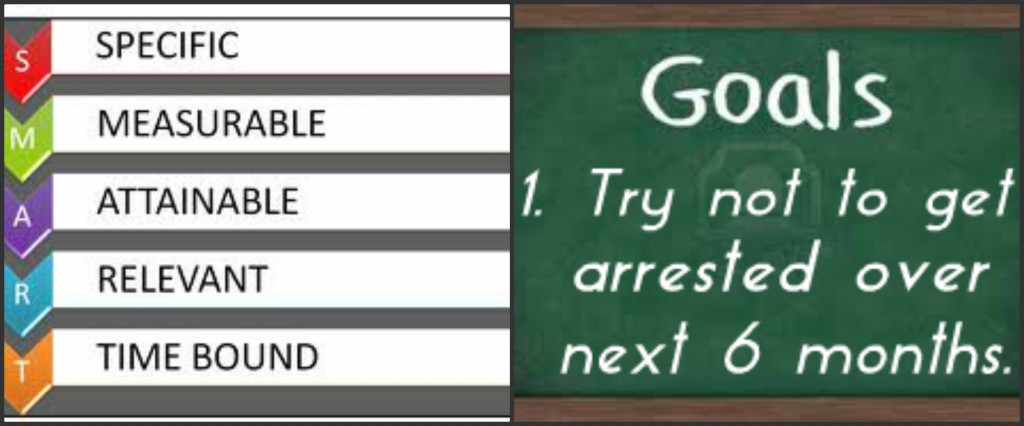 Update 2.27.14: Wishing, and it happens. Weird! 
I wished for an editor (put it on the goals list), an editor showed up (literally, in my inbox one day).

I thought, "We need help marketing educational products." And – THAT person showed up.

I thought, "We need help fundraising, and getting sponsorships, and …well, my speaking engagements – too" – and THOSE people showed up.
Am I crazy here? Who else does this happen to out there?