Reading @RisingWoman 's experience about overcoming challenge makes us truly verklempt.
Michelle writes about something many of us don't talk about, much less write about…much less bear our souls about.
But she does…to teach others. That's power. Get out your notebooks ladies. We're seeing it in action, right here, right now in her case titled:
Michelle Smith & Athena Promotion
A few words from a female, professional, non-practicing alcoholic
Excerpt:

…I am what is called 'a high-functioning alcoholic'. If you had seen me when I was drinking actively and enthusiastically to blackout point most nights, you would have been dazzled by my 'perfect' life.

At my alcoholic absolute worst, I had a high-paying job in Hong Kong, an amazing wardrobe, a big apartment. Any pangs of worry I had about my drinking were silenced by the fact that I had my MA in International Business, spoke three languages, and was well-respected by my colleagues….

…But my personal and professional confidence was all a show: inside, I was a terrified, self-loathing mess, unable to deal with criticism, confrontation, or my own feelings…

…Recent studies show some disturbing trends: that the biggest jump in alcoholic drinking has taken place in professional women….
Read Michelle's Case on HotMommasProject.org, the world's largest women's case study library.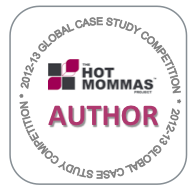 Read More from Michelle about her experience writing a Hot Mommas Project case.
Michelle Smith joins the Sisterhood of Success, dashing across the finish line, breaking the ribbon. What a SHARE! Let's welcome her with open arms. Someone THIS strong? We want her on our side. Sheesh. Go Michelle. xoxo the @HotMommasProj
###
Hot Mommas® = Dynamic Women
Hot Mommas® Project: The world's largest collection of women's case studies. We provide access to female mentors and role models for use by trainers, educators, and parents from basements to boardrooms around the globe. Our library + our women's leadership training series = measurably increased confidence (up to 200 percent).
We're founded by a faculty member at the GW School of Business and included in the mission of its Center for Entrepreneurial Excellence.
Proud of the Women and Girls in Your Life? Join our Sisterhood of Success® (Dudes? Check "Men's Aux" Box)