From fortune cookie making to helping entrepreneurs in the food industry attain good fortune, Lori Saitz takes us on the entrepreneurial twists and turns of her company Zen Rabbit. Step 1: "Surround yourself with people who love, support and 'get' you."
Lori Saitz & Zen Rabbit 
If Hard Work & Sheer Will Were Enough…
Excerpt:

"I just CAN NOT DO THIS anymore, Lori thought in despair. It had been almost ten years since she founded Zen Rabbit and this company she'd created based on a family cookie recipe had pretty much consumed her life for the entire decade. It was like her child, although for some reason, this child refused to develop according to schedule. At this point in the life of the business, the company should be profitable. She should have a fulfillment company managing the packaging and shipping of products, as well as an assistant to handle administrative stuff and perhaps a handful of other team members taking care of media relations and online engagement.

Yet there she was, in the midst of another busy holiday season, packaging orders at all hours and dropping them off at the post office, doing all the work herself and wondering where the money was…"
Read Lori's full story on HotMommasProject.org, the world's largest women's case study library.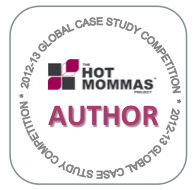 Lori Saitz (& Zen Rabbit) joins the Sisterhood of Success, shares her story and – in doing so – offers lessons learned and in-progress with a dash of curve ball and a full dose of older sister. Thanks to Lori for her generosity of time, and wisdom.
###
Hot Mommas® = Dynamic Women
Hot Mommas® Project: The world's largest collection of women's case studies. We provide access to female mentors and role models for use by trainers, educators, and parents from basements to boardrooms around the globe. Our library + our women's leadership training series = measurably increased confidence (up to 200 percent).
We're founded by a faculty member at the GW School of Business and included in the mission of its Center for Entrepreneurial Excellence.
Proud of the Women and Girls in Your Life? Join our Sisterhood of Success® (Dude? Check Men's Aux Box)