As an award-winning, world's largest case study library for women and girls,
we welcome you to help a high potential young woman in celebration of International Women's Day on March 8.
Here's what you'll need:
5 minutes
A few braincells
A good soul
Two – three sentences (250 words or less, please)
What's the #1 piece of wisdom you'd share with a "Girl on Fire"? Aka –  a high potential girl emerging to a young woman.
Top entries shared on MariaShriver.com 
via @ChiefHotMomma, a MariaShriver.com contributor.
Post: 250 words or less by midnight, Friday March 8th
 Post BELOW as comment
Submissions should:
Enable our girl on fire to be the best her both

personally and professionally.

Follow Hot Mommas Community Rules of Engagement (diversity is embraced. mean girls are not).
That's it
Want More??!!!!
Add a flame to your avatar and tweet #IWDFire.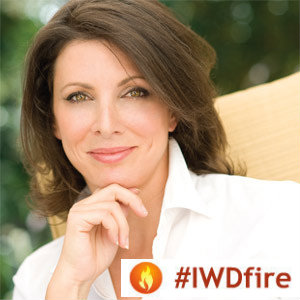 Nominate yourself or someone else to be a full-fledged Hot Mommas Case Author and Role Model
Why? 
Nominate someone (self included) today.

Top entries of case authors each year published in a Pearson Prentice Hall Textbook

See a sample nomination.
Read about the inspirational experience of @RisingWoman overcoming challenge as author, mentor  HERE.

Who needs you as role models? See this video from one of our Founding Case Authors and  Senior Regional Country Manager, Canada (and her daughters!) @LydiaFerndandes 
ABOUT:
Hot Mommas Project is the world's largest collection of women's case studies (aka digital role models and mentors for use from the basement to the classroom to the board room). Your stories + our teaching tools increase confidence up to 200% – the only known curriculum of its kind globally.