Anne-Marie Slaughter loved her dream job as director of policy planning at the State Department. But after protracted periods of leaving her two sons and husband at home five days each week while she was in Washington, she realized it wasn't working.
Slaughter writes in the Atlantic article Why Women Still Can't Have It All:
"All my life, I'd been on the other side of this exchange. I'd been the woman smiling the faintly superior smile while another woman told me she had decided to take some time out or pursue a less competitive career track so that she could spend more time with her family …
Slaughter says she still believes women can have it all,
"but not today, not with the way America's economy and society are currently structured."
Four Different Stories
We know what's not working. Read the four vignettes below and tell us: Does it make you think anything can be different, or that it will be more of the same?
Take Safa, for instance, you may have seen her on our home page: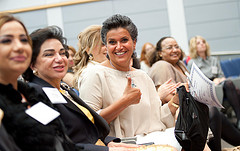 Make History. Safa Al-Hashem is the winner of the Hot Mommas Project 2011 Case Study Competition, Middle East Region. In 2012, she ran for Parliament in her home country of Kuwait. She lost. In fact, out of 50 positions one female was elected. Yesterday, we learned from our Middle East regional manager that Safa won a court case annulling the 2012 elections in Kuwait. This is an unprecedented action in Kuwaiti political history. We don't know too many details right now, but, it appears that our Hot Mommas Project award winner  is making women's and world history.
"Hafta" Have it All. On Monday, I'll be meeting with someone from Israel. She's interested in being our country manager there. This woman is so intrigued by stay at home moms in the US that she wants to get together and talk about it. "We don't have this in Israel," she said. I, personally, am fascinated to learn about the idea of it not being an option. Talking about having it all, you've GOT to have it all. What if you HAD to have it all? 
Think like a guy. Let's take Tai. He and his partner drop their son off at daycare. "We don't tear our hair out like we see the moms doing," he told me. "Brad and I are like, 'Bye sweetie!' and waving and smiling because we know he's going to have the best time ever." They both work, they have the proverbial all, and they're guys. Their child is happy as can be. And that leads me to my last vignette.
Decide what you're seeking. Louann Brizendine, author of the New York Times Best Seller The Female Brain tells us that females – from birth – seek external cues such as facial expression and tone of voice for social approval. Dr. Brizendine regales us with tales of Leila who, at a very young age, is able to interpret and react to hand motions from her mother. Our pleasure with her, is her pleasure with herself – it seems. Is having it all a deeper dilemma than we thought? Do you literally need to have the right neurology to do it?
Are we seeking approval, or success, or both and is THIS  what we

really

mean by having it all?
Possible questions to explore:
1. Is approval of others on your list for happiness/success? If so, what if it came off the list – what would happen?
2. Do you need to feel that you're on a mission, or in a battle for a cause, to justify a hard career push? Do you need to feel there is "no option" to justify a hard career push? If you're given an option out, will you take it? Or is having a fulfilling, purposeful career simply part of your intrinsic value system?
3. What if you lived in a society where women were expected to work, just as men were? No one judged you and there was no inner guilt for "shoulds, woulds, coulds" imagined or real. How would that feel? Would it be a relief, or a burden?
4. Do you feel your definition of success is your own, or someone else's with which you are complying?
5. What scenario would you hope exists for your daughter / niece / the next generation versus now?
How did you fare?
****
Related posts:
Hot Mommas = Dynamic Women.
Proud of the women in your life? We are too. We increase confidence of Gen Y, Gen X, and beyond.  How? Research and learning tools. We are the world's LARGEST women's case study library. Our award-winning #SisU learning tools and events measurably increase confidence and success factors up to 200%. More about us.
The research arm of the Hot Mommas® Project is housed at the George Washington University School of Business, Center for Entrepreneurial Excellence along with a nationally ranked women's entrepreneurship program taught by the Hot Mommas® Project founder.