Saranne Rothberg should be dead right now. Or, at least, that's what her doctors told her. Saranne' s journey is one of not only conquering the disease, but going on to start a leading non-profit to help others with the disease.
Recommended use: Read below, and share this with young women, a leadership group, or book club. Discuss the personal and career takeaways that you can carry forward into your life.
Saranne is the Winner of our 2009 Hot Mommas Project Global Case Competition.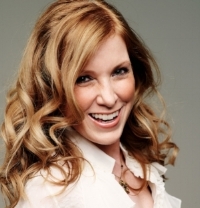 Hot Mommas Project Case Study
Saranne Rothberg, MS & ComedyCures Foundation 
Arm Yourself With A Punch Line: Develop Your Comic Perspective
I FRACTURED MY FUNNY BONE in February 1999.  I heard "malignant tumor, surgery, radiation, chemo" and felt as if I'd forgotten how to breathe. The Cancer Team had gone home and I was told to come back Monday. Suddenly, an old magazine article about a man who had "laughed himself well" hijacked my thoughts.
If laughing helped Norman Cousins beat his rare nerve disease decades ago, why couldn't I bemuse my breast cancer?  Treatment wouldn't start until Monday.  I yanked off my hospital gown and ran to the video store in search of comedy.
I returned home armed with stacks of comedy performances.  Barely holding back an eroding dam of tears, I squeaked out bed-time prayers with my 5-year-old daughter, Lauriel.  Torturous questions bombarded my mind as Lauriel fell asleep.  "How many more bedtime stories will I read to her?"  "Will I be strong enough to bathe her after chemo starts?
Sobbing, I ran to the television in another room and fumbled to insert the first videotape.  Could the comedy cavalry rescue me?  Sitting in front of the TV, I prayed for a miracle.
A young Eddie Murphy appeared on the screen.  He set up his first joke, delivered the punch line, and the audience's laughter filled my room.  I demanded that my mind listen to Eddie, even though it was more interested in my self-chatter about my own mortality.
Another Eddie joke, I cried, and blew my nose.  Another joke, and I laughed from my soul.  I could still laugh!
Watching Jackie Mason, I discovered that each laugh delivered a deeper breath and a sense of calm.  Robin Williams' relentless antics caused me to laugh without pause, jiggling all those stomach knots caused by the cancer diagnosis.  Laughing at Jerry Seinfeld's "Lost Socks in the Dryer" monologue, it hit me, "I lose socks too.  I am not alone.  Millions of people are on this cancer journey with me tonight."
A myriad of comics taught me a crash course in comic perspective; turning stress and disease on its head. When Lauriel arose in the morning I excitedly enlisted her to become my "Humor Buddy." We immediately watched and laughed at Bill Cosby's "Chocolate Cake" routine.  We made our list of all the things that bring us joy, and we pledged to make an "Appointment to Laugh" every day.
During my first chemotherapy treatment, we organized a "Chemo Comedy Party," including friends, family, sparkling cider, dessert, party favors and six hours of stand-up.  I spontaneously invited the doctors, nurses, fellow outpatients and their family members to join us.  The "ComedyCures Epiphany" happened as Adriamycin coursed through my veins:  I would launch a nonprofit organization to bring joy, hope and comedy into the trenches of treatment.
What had appeared to be 3 decades of scattered "random events" were actually constellations of my life experiences; everything I needed to launch these ComedyCures patient programs and beat cancer had already been provided. I was born a fighter at only 28 weeks, weighing in at a mere 2-plus pounds. I was raised by a single dad who taught me to ask, "Says Who?" I started relentlessly knocking on doors for "Jerry's Kids' Telethon" in elementary school. Amazing opportunities presented and I seized them, becoming one of the youngest news anchors in the country, scouting comics for Dick Clark, working on the first Anti-Apartheid movie in South Africa, teaching ill and physically challenged kids and then becoming CEO of ComedyCures.
It's been almost ten years, three surgeries, 44 radiation treatments and too many chemo cocktails since my all-night comedy marathon.  My severest personal challenge became my greatest professional accomplishment. Since the launch of our ComedyCures Foundation, we have entertained more than 400,000 people worldwide at live ComedyCures events.  My ComedyCures Co-Founder, Lauriel, is now 16, and we have shared our programs, strategies and comedians with the United Nations, Marines, orphanages, women's shelters, schools, hospitals on several continents and families impacted by the September 11 attacks. The punch line is that I am cancer-free, and my funny bone healed.
Now it's 11:20am on a crisp Big Apple day and my Cabbie is wrestling our way across town to my next ComedyCures patient program. I catch a glimpse of my unexpected new red hair in the pane and smile, remembering the perks of chemo-triggered baldness: no shaving, plucking, tweezing, threading, waxing, shampooing, conditioning, curling, straightening, drying, dyeing, perming, or highlighting. The years that I had cancer, I saved thousands of dollars in coiffing, reclaimed hours each month from the beauty parlor and I actually ran on time.
My vibrating cell phone immediately refocuses me on my 9-page call sheet, bursting out of my briefcase, as yet another two callers catapult into voicemail.
"Sorry Lady," interrupts my Taxi Man from the front seat, "There's a demonstration on 5th Avenue. I think we should just wait it out."
I nod into his rear view mirror and surrender into his back vinyl seat as the demonstrators march by. I do believe you are exactly where you are supposed to be, whether that's a chemo chair at NY Hospital or a gridlocked taxi in Manhattan.
As a CEO you'd think I would have already mastered all those "Highly Effective Habits" but I just continue to use every pause to reduce the sea of requests bombarding our entrepreneurial 501(c)3 organization.
The daily dialing ritual begins:
"Hi, this is Saranne Rothberg from The ComedyCures Foundation returning your call regarding our therapeutic comedy programs. Patients and caregivers attend for free, please visit: www.ComedyCures.org to confirm. Looking forward to meeting and laughing with you."
"Hi, this is Saranne from The ComedyCures Foundation. Just confirming my Keynote. Call 888-300-3990 or info@ComedyCures.org to arrange travel. We are honored to serve your staff."
"Mr. Rock's manager please. I'm the stage four cancer survivor with no visible disease who did the event for the families of September 11th on Broadway. Yes, Oprah. Thanks. Would Mr. & Mrs. Rock be available to appear on our ComedyCures LaughTalk Radio Show. Thanks!"
"Hello, this is Saranne returning Mr. Paul's call, could you tell him that I'm sorry I never used his energy drink. ComedyCures cannot endorse it. Thanks."
"Hi Betty, this is Saranne. Please tell Jeff that the program sponsorship check arrived. Thanks."
"Principal, this is Saranne from ComedyCures. We are confirming our participation in your Mind Body Symposium. We can bring LIVE LOVE LAUGH bands. We're excited!"
"Nancy, I wanted to express my deepest sympathy. Your dad loved to laugh at our LaughingLunch program. Many generous donations arrived in his memory. Thank you and my sincerest condolences."
My Cabbie turned around to me in the back seat and burst out before I could dial Frankie (one of my performers), "Lady, I drive a lot of people. You are lucky." He continued before I could acknowledge him. "I'm serious. You got purpose. Not many people got purpose." "I'm sorry you had cancer but you know exactly why you are here." The truck behind us beeped to tell him that traffic was moving. I smiled back at my Taxi Man through his mirror, thanking him.
I got "purpose." I am also blessed to have this amazing daughter and my health. I dodged the cancer bullet and get to run this awesome charity that I founded from my chemo chair with a cell phone and a laptop.
But more and more Program Demand, Patients, Caregivers, Donors, Sponsors, Celebs, Media, Staff! Personally, can I continue to balance it all while always keeping my daughter the priority? With all the media exposure "Fans" already show up at our house and office unexpectedly. Many emailers are demanding immediate response. As we expand will the privacy boundaries fully deteriorate?
To learn more, and for links to Saranne's Twitter, Facebook, discussion questions, teaching notes, and other information, log into www.HotMommasProject.org &  search "Saranne" in our CASE LIBRARY.
******
Learn more about the Hot Mommas Project.