SisU Fuel Workshop Series: Spring Enrollment
SisU Fuel consolidates our most popular, power-packed practical leadership, communication, opportunity building, and negotiation confidence lessons into four half-day sessions.  There will be two different sessions:
a. One open to the general public, (sign up sheet – these individuals will be contacted when enrollment opens in the Winter/Spring semester of 2014) and
b. One for cultural exchange Au Pair students via the State Department (sign up sheet for Au Pairs – you will be contacted when enrollment opens in February or March).
If you are interested in a similar workshop series for your organization or group on site, please
contact us
. Modules will include:
Creativity and idea generation. Finding and mining opportunities.
Communication. Idea to action – pitching ideas with confidence and clarity.
Negotiation. Taking off the "friend" hat and putting on the business hat. Statistics, techniques, and pitfalls.
Mentoring and balance. Individuals with 5 or more mentors have greater perceptions of success and confidence.
Tech – Using blogging, Slideshare, social media for group presentations, is part of the workshop
Group work and guest speakers – this is part of the high-energy workshop.
Materials: Materials will include online articles and case packs for a nominal fee.
Cost:
The price is $350 per participant for our standard class size. 
Contact us about the cost for your group based on facility needs, number of people, etc.
The Digital Classroom – All Access Pass
Digital Classroom – All access pass available soon.
Want a little more Hot Mommas Project Sis U wherever you are? The Digital Classroom represents the best of our learning suite combined with top takeaways from the nationally award-winning Women's Entrepreneurial Leadership Class taught by instructor Kathy Korman Frey who is part-time faculty at the George Washington University School Business. Learn more, including a sneak preview.
Sign up on our mail list for information about the launch of our all access archives pass.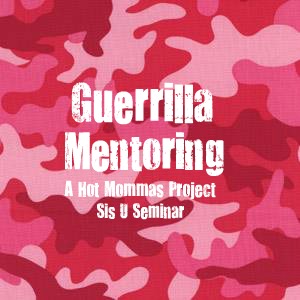 Guerrilla Mentoring is a SisU Academy favorite and one of the most addictive mentoring events you've ever experienced. 
What: Guerrilla Mentoring is a proprietary Hot Mommas process wherein we have adapted a million-dollar executive peer mentoring technique for dynamic women of all ages.
Who: It will leave you with the support network you've always wanted, and buzzing with energy as you present your goal or challenge, get personalized feedback. Not just about business ladies…we get lawyers, doctors, unemployed, students…it's about a support network – period. We all need it. Research shows it.
When: No events are currently scheduled. However, when we host – they are typically scheduled from 10am – 12pm, Saturdays, at the George Washington University.
Where: To bring a Guerrilla Mentoring session to your town, organization or conference, contact us. Read our article in Working Mother.
SisU Leadership Academy: Fall 2014 in DC (or bring to your town)
#SisU2012 Academy 
SOLD OUT. Sign up on our mail list for alerts! 

SisU Academy is the only known class in the world to measurably increase confidence and key success factors 66% in three hours, and 200% in a semester. Our Academy takes place each Fall at the George Washington University. The next one will be held as part of our Summit this Fall.
See our photo gallery. Read about it. See our 2012 panelists.
Contact us to bring Sis U Academy to your town, organization, or conference.