Eman Al-Awadhi
"This is a man's world" and Eman's living it!
"SLAP! Just like that, I'd snapped… and there the bright red imprint of my hand across Asif's face to prove it! Total silence descended.
This was a turning point in my life; no longer was I going to allow anyone to taunt me, and NEVER will I allow anyone to think they could simply walk all over me. It may not be up to me to get my homeland back, but I sure wasn't going to let people dictate how I was going to live my life."
Read more of Eman's story here. on our case site HotMommasProject.org, the world's largest women's case study library.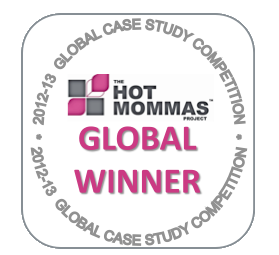 Eman joins the Sisterhood of Success, shares her story and – in doing so – offers lessons learned which benefit us, or someone we might know (or even someone we don't).
See Eman's talk in our Awards Video
###
Hot Mommas® = Dynamic Women
Hot Mommas® Project: The world's largest collection of women's case studies. We provide access to female mentors and role models for use by trainers, educators, and parents from basements to boardrooms around the globe. Our library + our women's leadership training series = measurably increased confidence (up to 200 percent).
We're founded by a faculty member at the GW School of Business and included in the mission of its Center for Entrepreneurial Excellence.
Proud of the Women and Girls in Your Life? We are too.
Join the Sisterhood of Success® where your stories + our teaching tools increase confidence up to 200%.
(Dudes? Check "Men's Aux" Box)