Whitney Johnson
Disrupt Yourself
Across from my Working Girl-ish type desk was a bullpen which was essentially a locker room for twenty-something guys aspiring to become masters of the universe.  Because the pressure was so intense in this testosterone-filled room, they inevitably went for the hard sell in opening new accounts, saying things like "Throw down your pom-poms and get in the game." 
  Initially I was offended, because I was a cheerleader in high school.  But about six months in, after hearing throw down your pom-poms yet one more time, I realized I needed to throw down my pom-poms and get in my game, and figure out how to move up the food chain.
Read more of Whitney's story here on our case site HotMommasProject.org, the world's largest women's case study library.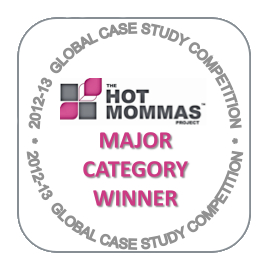 Whitney joins the Sisterhood of Success, shares her story and – in doing so – offers lessons learned which benefit us, or someone we might know (or even someone we don't).
Click here to see a short video by Whitney
(uh, yes, that's Hannah you see in the bottom! Hi Hannah!)
Click here to read Whitney's thoughts on writing a Hot Mommas Project case study.
###
Hot Mommas® = Dynamic Women
Hot Mommas® Project: The world's largest collection of women's case studies. We provide access to female mentors and role models for use by trainers, educators, and parents from basements to boardrooms around the globe. Our library + our women's leadership training series = measurably increased confidence (up to 200 percent).
We're founded by a faculty member at the GW School of Business and included in the mission of its Center for Entrepreneurial Excellence.
Proud of the Women and Girls in Your Life? We are too. 
Join the Sisterhood of Success® where your stories + our teaching tools increase confidence up to 200%.
(Dudes? Check "Men's Aux" Box)