Mary Sarah
Dream Big or Go Home
"I want to be a voice for those who don't have one"
Those words hung in the air as my parents were driving me to yet another competition, singing event, national anthem appearance, local Texas Opry's, Honky Tonks – you name it, we went to them all.  I saw my Daddy's head turn to my Mom's for he had just asked out loud to the van "Mary Sarah WHY do you want to be a singer?"
Read more of Mary Sarah's story here on HotMommasProject.org, the world's largest women's case study library.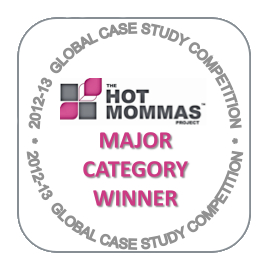 Mary Sarah joins the Sisterhood of Success, shares her story and – in doing so – offers lessons learned which benefit us, someone we know, someone we may never meet across an ocean.  
Hear Mary Sarah's song "Crazy Good" featured as our Intro and Outro for the
2012-13 Hot Mommas Project Awards Webcast Announcement.
###
Hot Mommas® = Dynamic Women
Hot Mommas® Project: The world's largest collection of women's case studies. We provide access to female mentors and role models for use by trainers, educators, and parents from basements to boardrooms around the globe. Our library + our women's leadership training series = measurably increased confidence (up to 200 percent).
We're founded by a faculty member at the GW School of Business and included in the mission of its Center for Entrepreneurial Excellence.
Proud of the Women and Girls in Your Life? We are too. 
Join the Sisterhood of Success® where your stories + our teaching tools increase confidence up to 200%.
(Dudes? Check "Men's Aux" Box)