What camp do you fall in for the Miley Cyrus' VMA 2013 Performance?  
1. Amazing, because everyone is talking about it.
2. Atrocious, because it was completely inappropriate.
Camp 1: It's Amazing, because everyone is talking about it.
From a business standpoint it's kinda brilliant.
New York Daily News reports Cyrus' album sales skyrocketed. She's also won the exposure battle, getting more tweets (and after-burn) than any single performer on the show.
We can't deny the Howard Stern shock jock effect…it's like,
"Why aren't you changing the channel?"
Because..I don't know, I just can't.
The question is…was this performance desperate or strategic? Justin Timberlake cited other greats in his quote: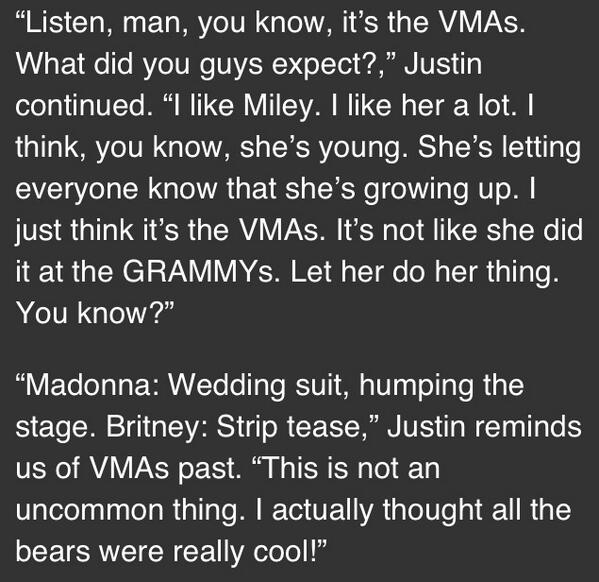 Camp 2: It's atrocious, because it's inappropriate. 
Business shout-out aside, Miley is now blacklisted for my seven year-old daughter. But does my belief system for my daughter make it inappropriate for her to gyrate or be otherwise outrageous on stage? C'mon, we all know plenty of stars act nutty everyday.
Here's the real reason people can't stop talking about this:
a. People seem embarrassed for her.  When Lady Gaga does "weird" it's art. When Madonna does "raunchy" it's controversial. Even Britney eased into it a little more. But this was different. The audience looked embarrassed at times. Do people like it, or like to make fun of it? 
b. She used to be a role model, now she's not. The 180 is disappointing to many. Studies show the more sexual content to which kids are exposed, the earlier they're likely to have sex (Source: Common Sense Media). Fair or not, we thought Miley was on Team Girl Scout. Turns out she's now Bump-and-Frind-Harajuku-Hello-Kitty. It's confusing to say the least.
####
See the performance and tell us what you think.
####
Hot Mommas® = Dynamic Women
Winner of a Coleman Foundation Case Award.
We increase confidence of Gen Y, Gen X, and beyond.