By Kathy Korman Frey, @ChiefHotMomma
When the Hot Mommas® Project and the George Washington School of Business Center for Entrepreneurial Excellence did a national survey of 269 high-drive working women, it was in the midst of the opting out media firestorm. It was clear what wasn't working. The story that wasn't being told was this: What WAS working?
The research arm of the Hot Mommas Project – the world's largest, award-winning women's case study library – is housed at the George Washington University School of Business along with a nationally ranked women's entrepreneurship program. Until now, the findings in this post have been made available to the academic community. Today, we make these some of the more interesting portions of our research available publically.
Choice and opportunities for women are on the rise: Women are earning the majority of Masters degrees and PhDs, comprise half the workforce, and are starting businesses in record numbers. Nearly 40% of women out-earn their husbands compared with five percent in the 1970s. But with growth and opportunity comes challenge. This has been diplomatically been phrased as "balance" over the past decade, but to many this is a term similar to the Holy Grail.  But, there are some women who have found calm amidst the chaos: High drive, high balance, specifically sought out for this survey.  The idea being: If women at the pinnacle of expectations for themselves can figure it out, maybe there is some hope for the rest of us. So we asked them "How do you do it?" Here is what they said is important to them, and how they have served as architects of their lives and careers:
Key enablers for high drive women balancing the professional/personal.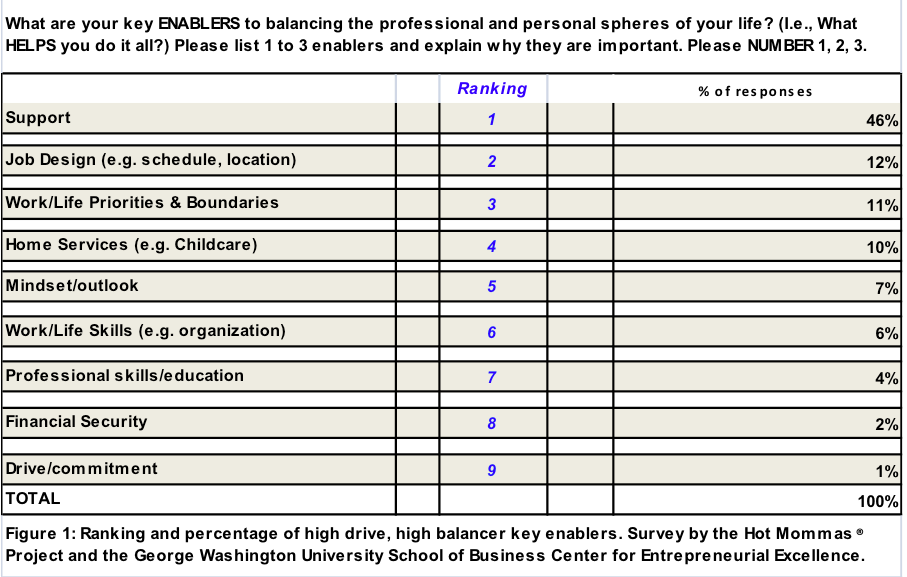 "Support" was far and away the number one answer. But what type of support? The highest drive, most successful balancers said the following types of support were key to their success:
#1: "Support from my spouse" or "support from my life-partner".
#2 "Support from work" or "support from my workplace".
#3 "Support from friends" or "support from family" grouped below as "friends and family".

What does this mean? It means that where these women log the most hours, they need the most support. Said another way, if women are want to be high drive and balanced, support structures are not a "nice to have" they are a "need to have." When investing time and effort in our career, as a first step driven women need look no further than our front door.
Detail on the Hot Mommas ® Project
Got women and girls in your life? The Hot Mommas Project increases their confidence, courage, and clout. We are an award-winning social venture that pairs the world's largest digital case study library of female role models with cutting-edge teaching tools as seen in the Washington Post Magazine, NPR, Forbes, MariaShriver.com, and Inc. The result of our teaching tools? Confidence and key success factor increases of up to 200 percent among women in Gen X and Gen Y. We've cracked the code, and now bring it to you.  Join the movement.
Detail on the GW School of Business Center for Entrepreneurial Excellence
The George Washington University Center for Entrepreneurial Excellence (CFEE) plays a central role in promoting entrepreneurship education to both undergraduate and graduate students. Through its faculty, graduate teaching fellows and partners, CFEE provides a knowledge sharing platform for many, both inside and outside the University, to study entrepreneurship from a local to a global perspective. CFEE offers excellent opportunities for research, in which knowledge and methods of different fields can be merged, where due diligence coupled with creativity and innovation scholarship may reach fruition not otherwise possible. More on CFEE.