Let us count the ways we heart Jen Sterling, founder of Red Thinking. Boy does this woman know how to rock the mentors. Jen is a Hot Momma (dynamic woman), who also happens to be a mom, entrepreneur, and overall achiever. But, what about when even the achiever doesn't know what to do? Below is an excerpt from her case study, which was one of the top three winners in our 2010 Case Study Competition.
Jen Sterling & Red Thinking
Been there. Solved that. But what's next?
Excerpt:

Jen hung up the phone in her office at Red Thinking, a branding and marketing company. Her company is experiencing "growing pains" yet again and it is time to make important decisions. Balancing scale, identity and time available. 

The clock was ticking. Jen looked over to her right at her calendar, ever looming, carved up in tight daily schedules: Red (for her company), blue (household), green (daughter) and purple (volunteer work, business networking, speaking engagements, hosting her monthly working moms support group, community events, webinars, chambers of commerce meetings, five different board of directors meetings, award presentations, etc.).

Right next to her calendar proudly stands a new wireless digital photo frame with a rotation of over 100 family photos that her husband gave her for Christmas. "Look!" says Jen to a friend/woman business owner sitting near her desk. "There's one my husband took of our daughter Rachel that I have never seen before."

 "I'm dedicating this case study to my daughter, Rachel, and hope it helps to instill in her an awareness and balance of values, volunteerism and adventure."
Continue reading, see Jen's links, discussion questions, and more on 
on HotMommasProject.org, the world's largest women's case study library.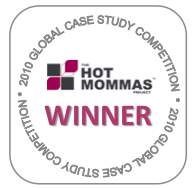 Jen Sterling (& Red Thinking, LLC ) joins the Sisterhood of Success, sharing her story and – in doing so – offering lessons learned and in-progress, a dash of curve balls and a full dose of older sister. Thanks to Jen for her generosity of time, and wisdom.
Hot Mommas® = Dynamic Women
Hot Mommas® Project: The world's largest collection of women's case studies. We provide access to female mentors and role models for use by trainers, educators, and parents from basements to boardrooms around the globe. Our library + our women's leadership training series = measurably increased confidence (up to 200 percent).
We're founded by a faculty member at the GW School of Business and included in the mission of its Center for Entrepreneurial Excellence.
Proud of the Women and Girls in Your Life? Join our Sisterhood of Success® (Dude? Check Men's Aux Box)
###