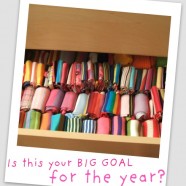 This Saturday, March 10 is Guerrilla Mentoring at the George Washington University.  This is part of our SisU learning series wherein women share a goal or a challenge and get feedback in a very specialized manner. It seems easy, but, we've actually been trained on it, practiced it for 10 years, adapted it for women, condensed it to two hours, put it in a mass format, tested it, fixed it, and now it's darn-near perfect.
The first step, however, is dig down and say: "Hmmmm, what is a goal I have for this year that I'd like to accomplish?"
The goal can be professional or personal.
And, if you can't think of a goal, it's usually because there is a big honking challenge getting in the way. If this is the case, we invite participants to share their challenge. Maybe they'll be able to unearth enough to get to their goal next time.
So, I've challenged our Guerrilla Mentoring participants – and open it up to you:
What is your goal or challenge for 2012?
Here's a tip: It shouldn't be "Organize my sock drawer."
I am waiting and ready to give feedback.