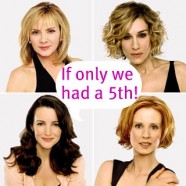 Today I'm sharing some of my research for the first time. I have proof that women not only need mentors, but also HOW MANY they need.  The short answer: The number is 5. How to think about this, organize yourself, and find these mentors is a huge part of what is discussed in my Sis U seminars / Digital Classroom for women, and that I teach to my students at the George Washington University School of Business.  In the next few posts, I share highlights of these tips with you
Not 2, not 3, not 4, but 5
First of all, Samantha and her buds had it all wrong. There are MARKED differences in women who have between zero and four mentors, and those that have five or more mentors. Four for cosmos….great, for career achievement…not so much.
People with mentors are more successful
First things first. Mentors ARE very important. From the halls of academia we know that individuals who seek out mentors go higher up the ladder and are paid more.  (1)  In the mainstream, we heart Keith Ferazzi for emphasizing the importance of close, lasting relationships in Who's Got Your Back.
But how does this apply to women? Is it different for us? YES.
From the halls of academia, Cox, Mueller, & Moss tell us that women and girls are more likely than men to limit their career choices due to lack of confidence or, more specifically, self-efficacy. Guess what RAISES self-efficacy? Exposure to mentors and role models. (P.s. This is why I created the Hot Mommas Project, world's largest library of virtual mentors and role models).(2)
How MANY mentors do women need? 5 is the magic number
A study from the Hot Mommas Project (with support from GWSB's Center for Entrepreneurial Excellence) shows us, without question, that five is the magic number.  Working women with five or more professional mentors:
Shoot higher: Women with five or more mentors are SIGNIFICANTLY more driven than their peers with 0 to 4 mentors.
Think bigger: Women with five or more mentors are more confident about their abilities to achieve a big dream or goal.
If self-confidence and self-efficacy are problems for women and girls, then mentoring is one clear solution. So how do we get some of that confidence and drive which make us more successful? Stay tuned for upcoming posts where you'll learn some special tips shared at #sisUdc this past fall. Here's a preview:
Millionaires have 5 or more mentors
Did you know some of the world's most elite entrepreneur organizations are anchored in  peer mentor groups containing - you guessed it – five or more members. These folks are all millionaires and, clearly, they have some things figured out.
Please help us, and share here: Is mentorship on your radar screen? 
If this post made you think, or helped you, leave a quick comment about your mentors – link back to them.
The secrets for building your group of 5 (or more) are next! And, also stay tuned for this concept of "5" in depth in my upcoming book. Write here, I may interview you about your mentor experience!
*****
Related posts:
Hot Mommas = Dynamic Women.
We increase confidence of Gen Y, Gen X, and beyond.  We are the world's LARGEST women's case study library (HQed at the George Washington University School of Business, CFEE). We measurably increase confidence and success factors (through our #SisU learning tools and events) up to 200%. More about us.
(1) Blickle, Witzkia and Schneidera. Self-initiated mentoring and career success
(2) Cox, L., Mueller, S., & Moss, S. (2002). The impact of entrepreneurship education on entrepreneurial self-efficacy. International Journal of Entrepreneurship Education, 1, 2